Admission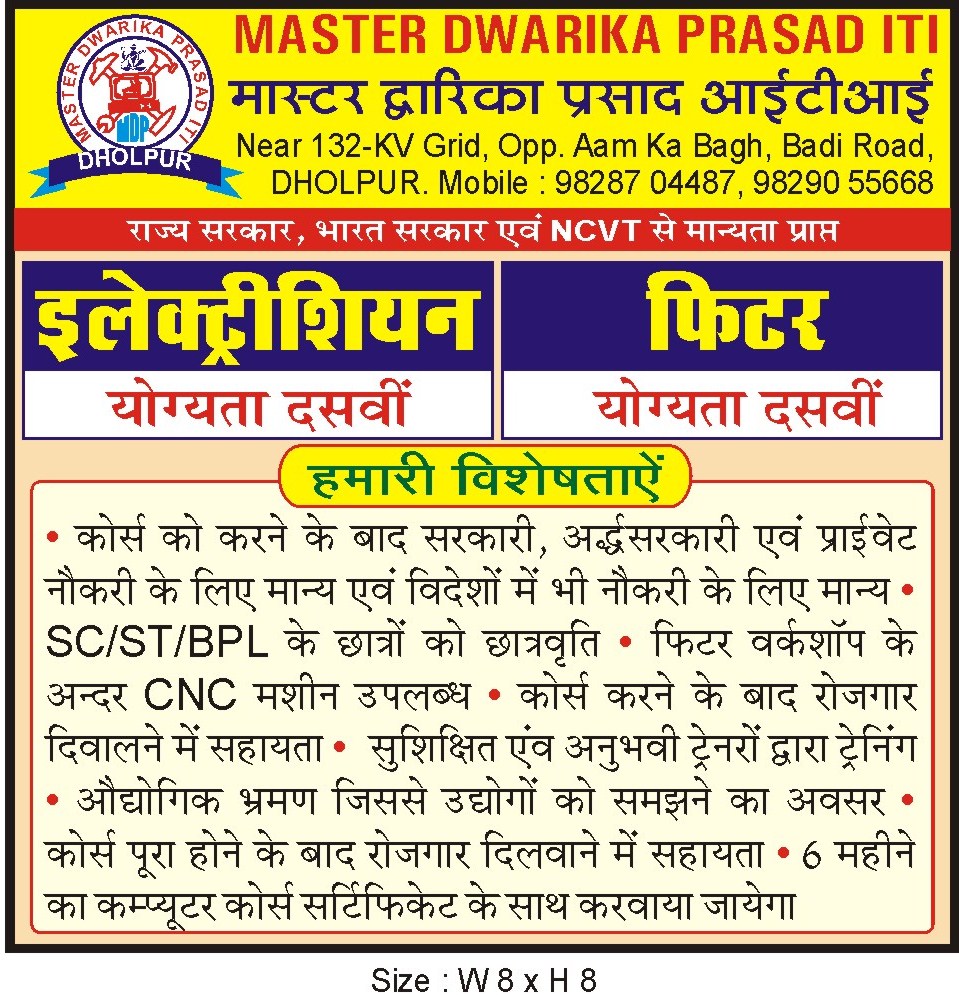 The minimum requirement for admissions for the above training course is a pass in 10th class . The candidate should be between age group of 14 to 40 Years on first August of academic year . Selection of Candidates is made by the selection committee.
No rigid standards are laid down but applicant for training should be physically fit for the work for which they are to be trained and candidates if selected for admission shall produce medical certificate to that effect from registered medical practitioner.

Master Dwarika Prasad Pvt. ITI offer the following Course and Crafts man Training Trades for Admission in the Current Year
S. No.
Trade (Course)
Semester
Qualification
Intake Capacity
1
Electrician
2 Year
10th
21 (shift-1)

21 (shift-2)

2
Fitter
2 Year
10th
21 (shift-1)

21 (shift-2)
Semester System :-
Semester System in CTS(Craftsman Training Scheme) Course implemented wef August 2013. The New Syllabi as per Semester System for all Trades under CTS are available on the website (www.dget.nic.in) training in any semester is to be standard from an academic session ie. either in the month of August or February . On Completion of the training period of a particular semester ,Trade testing would be done under the aegis of NCVT in July and January every Examination for each semester both for Theory, Workshop Calculation & Science, Engineering Drawing Employability skills and Trade Practical will be conducted based on the syllabus of the corresponding semester . A trainee has to secure pass marks in each subject(including Sessional ) in each semester
Subjects to be Studied during the Course    
Engineering Trade
Trade Theory
Trade Practical
Employability skill
Workshop Calculation &Science
Engineering Drawing
Non Engineering Trade
Trade Theory
Trade Practical
Employability skill
Monthly Test  : Monthly Tests are conducted at the end of each month ie. in each semester  and the trainees can improve upon their skills and Knowledge on the basis of their  Performance in the respective tests. Marks obtained in the tests are consider together with other modalities fixed for awarding the sessional marks for the semester Examination.
ADMISSION FORM FEE
Admission form  fee should be paid at the time of admission notification which is given by DGET /The training Director DTE Jodhpur (Rajasthan)(Rs. 50/-)
REGISTRATION FEE FOR NEW STUDENTS
Registration  fee should be paid at the time of admission notification which is given by DGET /The training Director DTE Jodhpur (Rajasthan)(Rs. 50/- for General and Obc and Sbc Rs. 25/-  For SC and ST )
ENROLMENT ( DOCUMENT VERIFICATION ) FEE FOR NEW STUDENTS
Enrolment  fee should be paid at the time of notification which is given by DGET /The training Director DTE Jodhpur (Rajasthan) (Rs. 100/-)
EXAMINATION FEE
Examination fee should be paid at the time of notification which is given by DGET /The training Director DTE Jodhpur (Rajasthan) (Rs 475/- Per Semester without late fee )
IDENTITY CARD
It shall be compulsory for every trainee to possess an identity card. Admission formalities shall be deemed to have been completed after issuance of the identity card by the ITI authority. The trainees shall produce five copies of their latest photographs in passport size. In case of loss of I-Card a duplicate I-Card shall be issued on production of (1) Affidavit    (2) Latest photograph (3) A fee of Rs.100/-